The Director is in...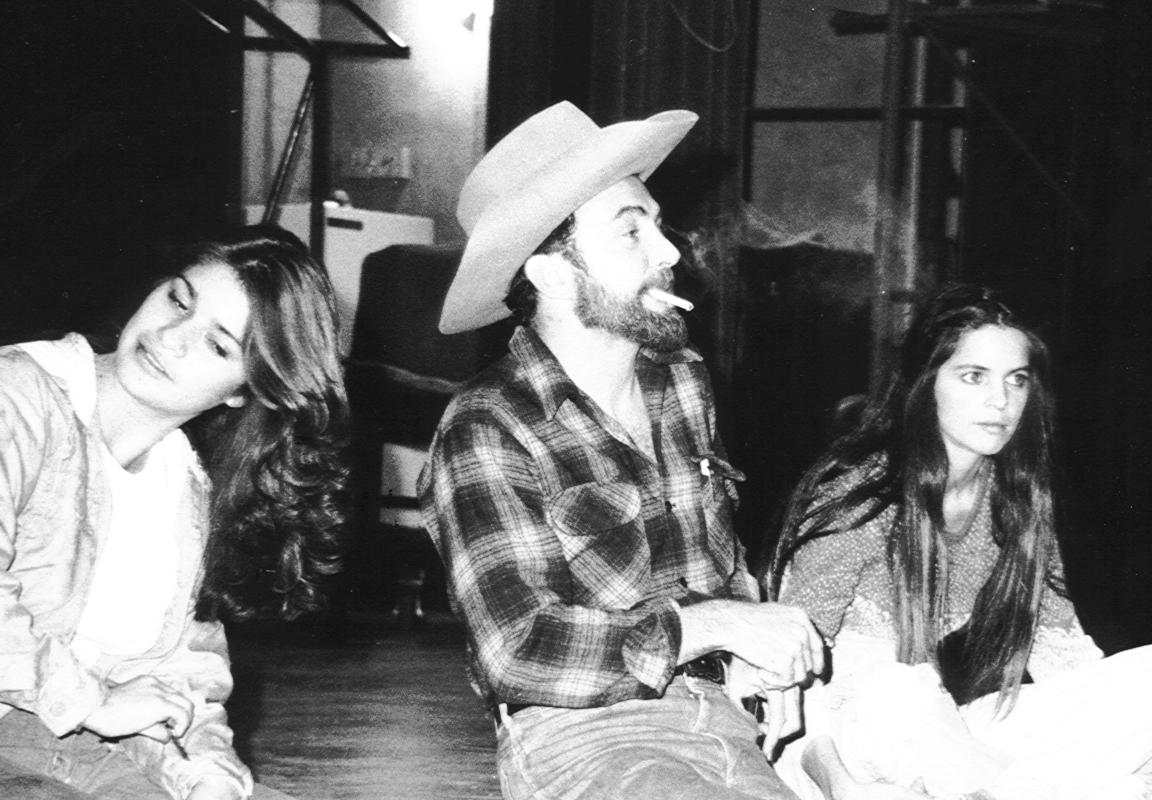 Terry Nicholson during Christmas Is...w/Gina Jimenez and Margaret Xitgo.
Doug Smallwood passes away, after fight with cancer.
October 7, 2003 Our dear friend, and brother and super techie Doug Smallwood passed away yesterday after a long fight with cancer that debilidated a strong and jovial man. Doug has been fighting a cancer that took a hold of his spinal cord and paralysed him wel over a year ago, and finally claimed his life. Doug will be buried on Monday October 12th in San Bernadino. Doug worked on two dozen productions at Theatre one between in the 80's and 90's, and was the ultimate Techie. He will be missed...alot.
Shirley Nicholson Passed away on July 2nd.
It with sadness in our hearts that we have to announce the passing of our Theatre mother Shirley Nicholson. Terry's mom passed away Wednesday evening July 2nd, 2003, after a short but grave illness. She will join Blackie and continue their time together.
Terry and family spend the last month at her side, Jennifer Thurston Becker also paid a visit the week before her passing.
Shirley was a great part of Theatre One, in multiple aspects, from Assisting Terry in the production to the concession stand. She will be missed by all who's lives she touched, she was the greatest lady of all.
Below the e-mail I got from Terry....
"To all of you who touched, and were touched by the life of my mother:

With sadness, I must tell you that Mom passed peacefully away this evening.
Over the past several weeks, each of you were mentioned by her with much love.
She had a great deal of time to set her life in order, and to review fondly her many experiences with you.
She asked that I pass on to each of you her love. She also wanted you to know that she was glad to pass quickly, without suffering.
She had the best of care, and truly passed in peace.
With loving regards,
Terry"

In Memoriam
In our research to find the talented players in the extensive group of people who dedicated their times and efforts to Theatre One we have come to the sad understanding that some are not with us anymore. The website is dedicated to their memory.
Alexander Stewart - technical Director,director, and actor
Mike Hester- Sound designer and technician
Robert Allen- Gourmet cook and food preparer
Gary Colandro- actor
Jon Olsen- Musical director
Annette Riding-costumes
Alex Dreier- actor
Bruce Lismond- actor, musician
Norman "Blackie" Nicholson- Actor, concessions
Ron Hamm-actor, make up artist
Michael Cruickshank- director and teacher
Melanie Hawk- Orchestra "Christmas Is..."
Ed Brucks- Theatre friend and party host.
Paul Jacobs, actor
Doug Smallwood, actor, techinician
Shirley Nicholson, Director/production assistant, concessions.
Wayne Davidson, Musician
Cecil Riding, actor
Undoubtedly in our further research we will see this list grow, we would appreciate if anyone has information about former cast and crew members that have joined the great Theatre in the sky so we may pay homage by dedicating this website to their memory.
sincerely
Peter Huender(webmaster)